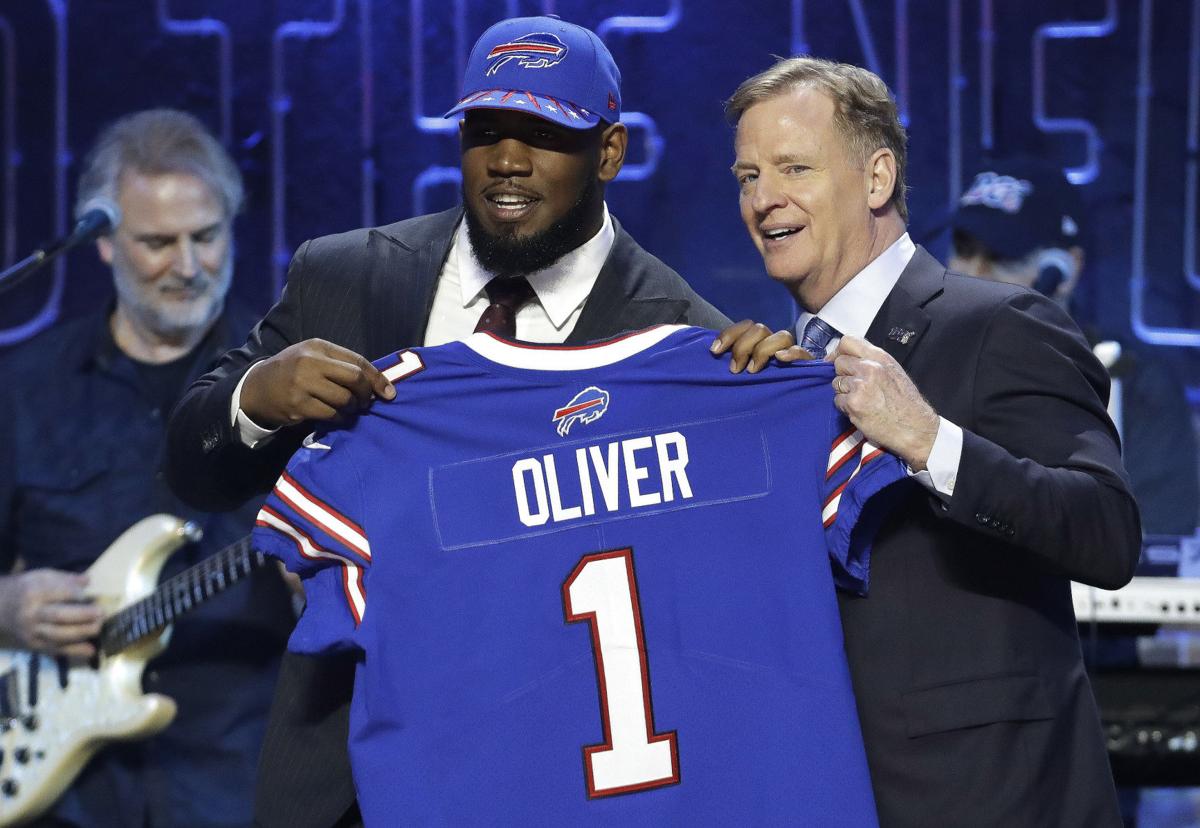 Brandon Beane has spent the last 3 offseasons tearing down years of poor roster management and bad drafting and built a roster the right way. Each one of Beane's drafts has brought multiple contributors and even Pro Bowlers. Dion Dawkins, Matt Milano, Taron Johnson, and Tremaine Edmunds just to name a few.
This draft presents an issue rarely seen by Bills fans. The Bills are plenty deep and have only a few holes plug. Finding a player at 54 who can contribute week 1 can be the cherry on top of the rebuilding sunday. (see what I did there…)
Quaterbacks
Current depth chart:
Josh Allen
Matt Barkley
Davis Webb
No question at starter here. This is the make it or break it season this year for Josh and the Bills have taken away any excuses he has not to succeed. The more interesting storyline is who backs him up. Barkley hasn't shown anything special, outside of smacking the Jets 41-10, 1 week after being signed off the street two years ago. He was originally kept on to be a mentor to Allen.But as Josh enters his third year, does Allen still need a mentor in Quarterback's room? Mcdermott loves competition at every spot, so bringing in a late round guy like Cole Mcdonold from Hawaii or former Clemson transfer Kelly Byrant, or another undrafted free agent, wouldn't be a surprise.
Possible picks at 54:
None-No way the Bills take a QB at 54.
Running backs/ Fullback
Current depth chart
Devin Singletary
TJ Yeldon
Taiwan Jones
Christan Wade
Pat DiMarco
First off, no, Christan Wade is not making the roster, so stop.
It was not until I started to type this I realized how little depth this room has right now. Singletary is the number one back in this offense and rightfully so. But is he a workhorse? He only touched the ball 20 or more times three times last year, had some ball security issues, and Daboll never put him for short yardage. Mcdermott and Beane have given plenty of coach/gm speak, supporting Yeldon as the number two back. But we have seen them speak highly of players only to be traded or cut. The number two running back spot may be one of weakest parts of this roster. A running back at 54 appears wise if they can get a compliment to Singletary. Jones will see time on special teams.
Unless he is a cap casualty, DiMarco should have no issue being the Fullback again.
Possible pick at 54
J.K Dobbins RB Ohio St
A Bills backfield with Singletary and Dobbins could be a problem. Dobbins brings a skill set that could very nicely compliment Singletary. It seems that every competing team has a stable of quality backs, and Dobbins gives them that.
Offensive Line
Current Depth Chart
– Mitch Morse Center
– Quinton Spain Guard
– Dion Dawkins Tackle
– Joe Feliciano Guard/Center
– Ty Nsekhe Tackle
– Cody Ford Guard/Tackle
– Daryl Williams Guard/Tackle
– Spencer Long Guard/Center
– Ryan Bates Guard/Center/Tackle
-Ike Bottetger Guard
-Victor Salako Tackle
The Bills are running it back with the same starting crew as last year. The only real question is what is the long term plan for Cody Ford. He split time at right tackle with injury prone Ty Nsekhe last season. In that time Ford was often the weakest link on the much improved line. The addition Williams further muddies the water for his future. Is the plan to push him guard when Feliciano's contract is up? Is his future at tackle? This is a solid group overall but Mcdermott loves competition in the trenches.A top offensive linemen is not out of question at 54.
Possible pick at 54
Lucus Niang OT TCU
A quality line talent who could take a year behind Ty Nsekhe and Dion Dawkins and step up if one they leave after next year.
Tight End
Current Depth Chart
Dawson Knox
Tyler Kroft
Lee Smith
Tommey Sweeny
Jason Croom
Nate Becker
Something that has flown under the radar is that Dawson was second in receiving yards among rookie tight ends last year. Yes he had drops, but he showed more than a few flashes of being a modern, athletic, tight end the Bills hoped for when they got him. That being said, the Bills did push to add Greg Oslen. But between Kroft's contract and Knox's upside, a tight end at 54 would seem unlikely.
Possible Pick at 54
None- A crowded room already and no one of value to take in that spot.
Wide Receiver
Current Depth Chart
Stephon Diggs
John Brown
Cole Beasly
Isaiah McKenzie
Duke Williams
Robert Foster
Nick Easly
Ray Ray McCloud
Andre Roberts
The years of nameless wide receiver corps in Buffalo are officially gone. (Save me your Marquise Goodwin, Chris Hogan, Robert Woods, and Sammy Watkins takes, I don't want to hear them.) This position is by far the deepest on the team and one of the best in the league. The more intriguing question going into camp won't be, who will the number 1 be, but who makes the final cut. Isaiah McKenzie, Duke Williams, and Robert Foster all bring a different skill set and will be interesting to see what McDermott and Dabol value more on the back end of the depth chart.
Possible Pick at 54
Laviska Shenault Jr. WR Colorado
Sheanult was one once mocked to be drafted by Buffalo in the first round to come in and be WR 1. In past weeks Shenault has dropped due to injury concerns and raw route running. At 54 with a chance to be WR 3 or 4 would be a total steal, and luxury for the Bills offense. A taller and more versatile Isaiah McKenzie, Shenault provides a great gadget option for the talented Dabbol.
Defensive Line
Current Depth Chart
Ed Oliver DT
Harrison Phillips DT
Star Lotuelei DT
Jerry Hughs DE
Mario Addison DE
Trent Murphy DE
Vernon Butler DT
Quinton Jefferson DT
Vincent Taylor DT
Darryl Johnson Jr. DE
Mike Love DE
Jonathon Woodward DE
First off call I listed three ends and and three tackles with the starters because of the way McDermott likes to rotate the line players in and out. Starters like Hughs and Trent Murphy only play, at most, 65% of snaps according to Pro Football Reference. Another thing to note is that the Bills can save 8 million in cap space by cutting Trent Murphy. Nonetheless, as Jerry Hughs and Star get older, I would look for the Bills brass to look for young contributors in the draft.
Possible Pick at 54
None- I think the Bills will add at this position during the draft. With the additions this offseason, I find it hard to believe the Bills will be looking to add someone who can come in a play right away.
Defensive Backs
Current Depth Chart
Jordan Poyer Safety
Michah Hyde Safety
Tre'Davious White Cornerback
Levi Wallace Cornerback
Tarron Johnson Cornerback
EJ Gains Cornerback
Josh Norman Cornerback
Sirean Neal Cornerback/Safety
Dean Marlowe Safety
Jaquan Johnson Safety
Cameron Lewis
Poyer just got locked up, Hyde has two years left, and Jaquan Johnson looks like he may have a promising future. The biggest point of contention among Bills fans this offseason appears to be CB 2. I listed Wallace as CB 2 only because he is the returner. He did not do enough last year to fend off Kevin Johnson from taking some of his snaps, and will likely have to fight off Josh Norman and EJ Gains, along with a possible second round draft pick.
Possible Pick at 54
Jeremy Chinn S* Southern Illinois
The asterisk is because Jeremy Chinn is a defensive weapon. At 6-3, running a 4.45 40, can be an absolute problem. He can cover at safety and help in run coverage at linebacker. Mcdermott LOVES versatility and could start playing week 1.
Bryce Hall CB Virginia
A senior cornerback with the size to play in the NFL. His personality oozes "process" and could immediately compete for CB 2 spot. A strong zone defender and has no issues playing in the run game. Coming off an ankle injury, he can take his coming back behind Wallace, Gains, and Norman.
Linebacker
Current Depth Chart
Tremaine Edmunds
Matt Milano
AJ Klien
Vosean Joseph
Tyler Matakevich
Tyrel Dobson
Del'Shawn Phillips
Lorenzo Alexander's retirement leaves a hole that needs to be filled. AJ Klien's contract would seem to indicate that the Bills plan to make a two down linebacker, but he brings a far different skill set. Vosean Joseph is quick and rangy for the position and could compete for snaps. A rookie picked at 54 could also see some snaps.
Possible Pick at 54
None- As important as Alexander was, he played between 47% to 58% of snaps in most games. The Bills can recreate that with the pieces they have at the very least.
Sources:
The Draft Network
CBS Sports
Rotoworld
Pro Football Reference